NJROTC Bids Farewell to Seniors, Welcomes New Staff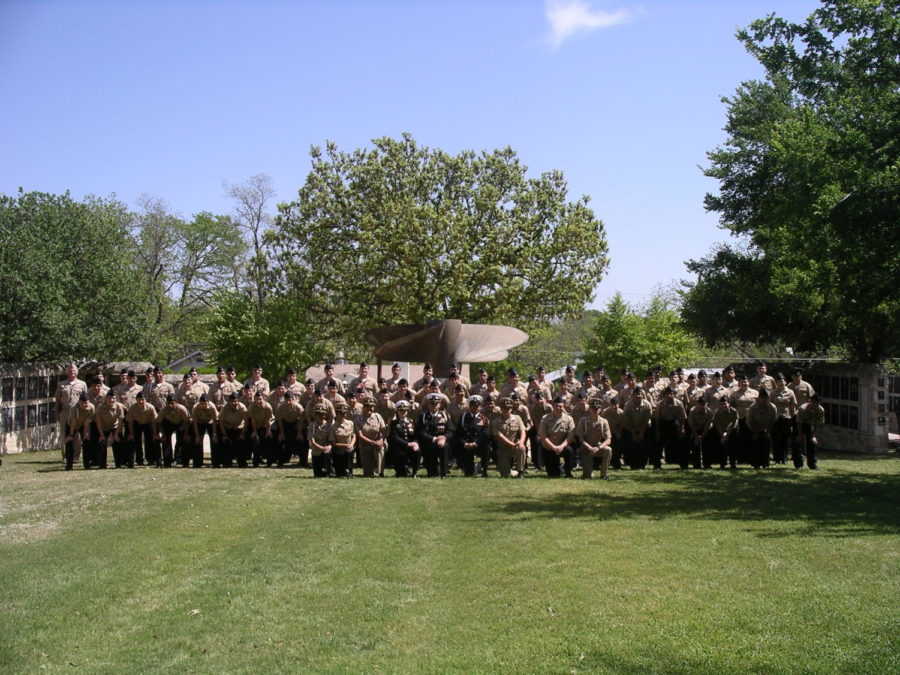 few weeks ago I was asked a curious question by a fellow bus-rider that got me thinking. I was asked why I joined ROTC, and if I intended on staying in the program. The latter question served an obvious answer. But the first was a head-scratcher. Why did I join this program? As a freshman in high school, I was offered so many opportunities to shine in many different programs. Why did this one peak my interest? Going on my third year in the program, I still can't figure this out. 
The Navy Junior Reserve Officer Training Corps, or NJROTC program is somewhat of an oddity in the eyes of programs such as choir, athletics or band. Instead of concentrating on teaching the ins and outs of hobbies like playing instruments or becoming a champion of curious competitive activities, Captain Fadok and First Sergent Griffith teach us cadets the ins and outs of military life and their core beliefs, such as respect, teamwork and many other Hallmark-movie approved cheesiness.  
The program offers many competitive teams to join for our ambitus cadets, and many leading opportunities for our responsible, encouraging cadets.  NJROTC is a cadet-led program, meaning if we could easily be compared to a school of uniform-wearing fish, it's all on us. But we haven't ever, and in my hopes never will, be insulted as such.  
Our past staff, including Bobby Voorhees (Commanding Officer) Javier Sorola (Master Chief) and DJ Herbort (Executive Officer) have done an excellent job ruling our little kingdom, and perusing a bright and very un-fish-like future. Continuing to preserve their work, Clayton Elebracht as Commanding Officer, Cristal Aguilar as Master Chief, and Bethany Wood as our Executive Officer work day and night, maybe not always getting along, but working together nonetheless.  
But there is so much more to the ROTC staff than the commanding and executive officers and our master chief. Just below in the rank of ensign is Ethan Littlejohn handing off the baton to the hard-working Austin West as the Operations Officer. Crystal De La Cruz steps from the Administration officer as she walks across the stage at graduation, leaving the position to the one and only Natalie Hernandez. You may notice the staff is made up of our departing seniors, but junior cadet Jessica Cornelius's long afternoons spent assisting the unit's organizational needs has finally paid off as she takes over as the only junior on senior staff and steps up as Supply Officer. 
"Being a junior on an all senior staff is a great accomplishment." Cornelius said. "I know all my hard work so far was something important for me as well as the unit."  
Robert Walls begins a new tradition to the mix when Robert Zowie takes his place as 2018-2019 training officer. Sophomore Jerret Jenschke retires his flags and passes them on to Nicholas Godwin as this next year's Flag Duty Officer. All those wonderful PowerPoints and carefully captured photographs could only have been the handiwork of The Public Affairs Officer for the 2017-2018 school year, Selena Diaz. As her succeeder, Rebecca McLaughlin hopes to meet and even exceed the expectations Diaz set on the unit. With over 170 days in the school year, we're bound to break down from stress and exhaustion and in dire need of a shoulder to cry on, and with Juan Loredo representing the emotional and religious needs of the unit, Carolina Gurrola can retire happily knowing her job is left in good hands.  
NJROTC is a cadet led program that has been the home of our seniors for nearly four years, and we as a unit will keep the happy, heathy, and what-happens-in-rotc-stays-in-rotc attitudes they left on us.