Unsolved Murders That Will Haunt You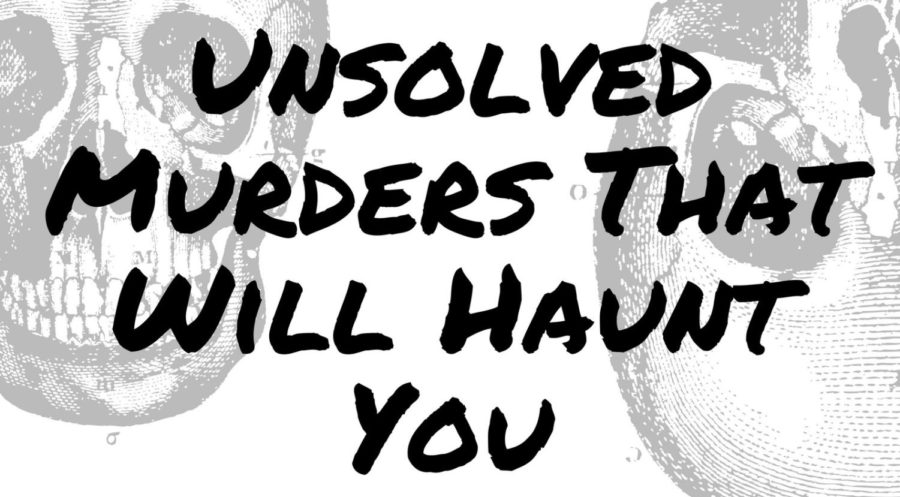 Valentina Chavarria, Staff
August 29, 2018
Murders have always been something disturbing that show the worst side of human nature. Something even more disturbing is families who never get justice for the murder of their loved ones. These five unsolved murders will send chills down your spine, and they will make you think twice about who the people you meet are.
1.) The Yogurt Shop Murders

In 1991, firefighters responded to reports of a fire in the "I Can't Believe It's Yogurt!" shop in Austin, Texas. Inside the store, officers found four dead girls stacked on top of each other. They had been shot in the head with a .22 caliber handgun. They were also naked and tied with their own clothes. The girls were later identified as Amy Ayers, Jennifer Harbison, Sarah Harbison and Eliza Thomas. Since the firefighters were the first to respond, they washed down all of the evidence when they put out the fire. Even though at one point police had 342 suspects, false confessions and pointless leads made this case extremely hard to handle. Years later the police had four suspects: Robert Springsteen, Michael Scott, Maurice Pierce and Forrest Wellborn. The suspects confessed to the crime, but later claimed that they were forced to do so. Eventually, the mishandling of the case and the lack of evidence made the police release the suspected murderers and to this day the case still remains unsolved.
2.) Is Dorothy Home?

Dorothy Scott was a 32-year-old single mother. She had started learning karate and even considered buying a gun after receiving calls from an anonymous stalker in 1980. The caller would profess how much he loved her, he would also describe horrendous acts of violence, and he would describe details of her life only he would know if he was with her. One night, after dropping her co-worker off at a hospital, she left to park the car and minutes later her coworker saw her car speeding away from the lot. Several hours later Dorothy's car appeared, on fire, 10 miles away from the hospital with no Dorothy Scott in sight.  Weeks after her disappearance, Dorothy Scott's mother received a phone call, "Are you related to Dorothy Scott?" the same voice that had been calling her daughter asked. When
---
2 / 3
Dorothy's said yes, the caller said "I have her" and hung up.  Similar calls continued, every time the stalker would say he "had her." At one point, Dorothy's kidnapper even called a radio station to confess details about Dorothy's last night that hadn't been released to the press, and he also claimed he killed Scott. "I killed Dorothy Scott. She was my love," he said. Four years later, the calls stopped abruptly and Dorothy Scott's remains were found by a construction worker in a brush. A week after the bones were discovered, Dorothy's mother received two more calls. "Is Dorothy home?" the caller asked. Dorothy's stalker and killer was never found and to this day the murder remains unsolved.
3) The Ice Box Murders

In June 1965, Fred and Edwina Rogers were murdered, chopped up, and then placed in their refrigerator on Father's Day in Houston, Texas. They had been killed a week before the discovery of their bodies. Edwina had been shot and Fred had his head crushed and his organs flushed down the toilet in their home. Their son, Charles Rogers, was the main suspect. He disappeared after the murder, before the bodies were found, and was never heard from again. He was extremely smart, had connections with the CIA, and had a lot of money. The motive of the murder, many concluded, was the abuse Charles endured as a child from his father. As an adult, the abuse didn't stop. Fred Rogers stole two lots from Charles while he was out of the country. The police had no other leads and no other suspects. Until this day, Houston agents are still looking for Fred and Edwina's missing son and the murders remain unsolved.
4) The Girl Scout Murders

On June 14, 1977, at 6:00 a.m., the lifeless bodies of Lori Lee Farmer, Michelle Heather Guse and Doris Denise Milner were found by their camp counselor in Camp Scott in Mayes County, Oklahoma. All the girls had been beaten and raped. After they were murdered, the girls were stuffed into sleeping bags and left on a trail 150 yards from their tent. Something really scary about the case is that two months before the murders, while on a training mission in Camp Scott, a counselor's cabin was robbed. In an empty box of donuts inside the cabin, they found a handwritten note warning them about the murders. The counselors disregarded the whole ordeal as a prank. When the girls were murdered, the police
---
3 / 3
were on the lookout for an escaped convict. Gene Leroy Hart had been convicted of kidnapping two pregnant women and raping one of them. Police quickly made Hart a murder suspect. He was arrested on April 6, 1978 and tried for the murder of the three girls. He was found not guilty, but returned to prison because of his past crimes.  The police never found another suspect and the murder remains unsolved today.
5.) The Murder of JonBenét Ramsey

On December 26, 1996, beauty queen, JonBenét Ramsey, was found dead in the basement of her home located in Boulder, Colorado. Before her body was found, her mom called 911 to report her missing after finding a ransom note demanding $118,000. The police found no sign of a break in. Hours later Ramsey's father found her in their basement. She had been hit on the head, strangled, and raped. In that time, Colorado police lacked the expertise to handle cases like JonBenét's. The police initially failed to treat the murder as a crime scene, letting neighbors walk around the house in search of the missing pageant queen. When her father found her body in the basement, he ripped a piece of tape from her mouth and carried her upstairs. All of these events extremely compromised the crime scene. The police later found out that the note came from a notepad in the Ramsey's house and found a rough draft for the note as well.  Law enforcement suspected a member of her family was involved, but in 2008, a DNA test cleared all family members and framed an unknown male. Twenty-two years later, the suspect has not been found, the DNA has not been linked to a particular person, and the case remains unsolved.
These murders are devastating, but the worst part is that the public will never know who was responsible and that murderer might be roaming our streets till this day looking for their next victim.