Interact Makes a Difference with Campus Projects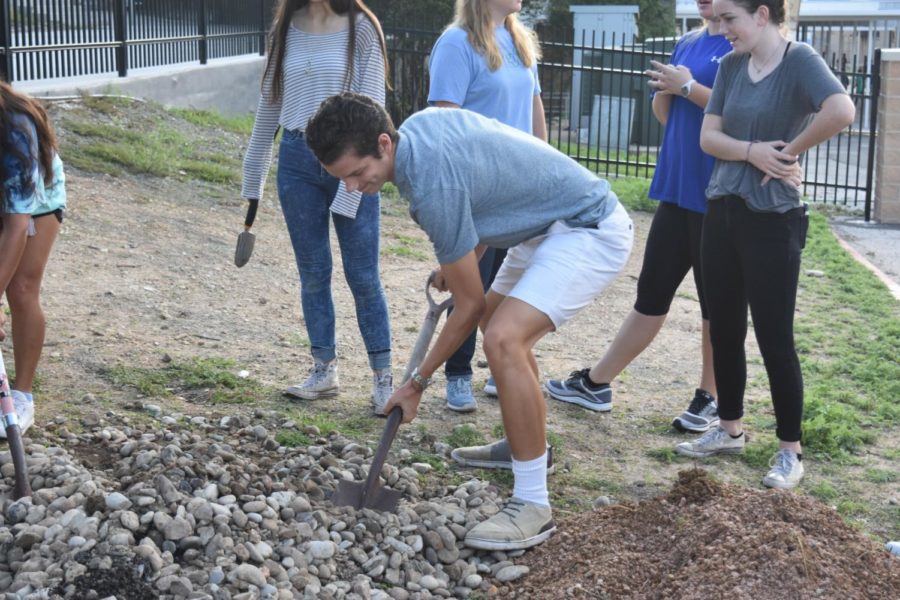 Memorial Garden. Cardboard City. Toys for Tots. There are so many projects that Interact takes on with grace and a smile on their face. Instilling the virtue of service above self is a priority for the Interact Club, which helps the community and raises money for different organizations. They meet in the library every other Wednesday to plan for their next tasks and put plans into action.
"If you join, you are never going to regret it because of the experience you will gain," senior Interact member Cooper McDonald said. "I get satisfaction out of knowing that I am doing something to help myself and the community."
Co- President of the Interact Club Levi Wilkins has been a part of Interact since the beginning of his high school career.
"As a freshman, it gave me something to always fall back on, and as I progress through high school, I realize it's not always about helping yourself," Wilkins said. "It's helping others as you interact through the community, and I think it's been very beneficial to everyone who has been involved."
Cardboard City has been a fundraiser Interact has been putting on for years, which has been a widely accepted event.
"In Cardboard City, you pay a $10 entry fee, and bring cardboard to make different forts or houses, and you will sleep over the night usually on the tennis courts, and there's different little competitions like who can survive a hurricane or tornado or best architecture," Wilkins said. "But the main purpose is to raise money to buy these things called shelter boxes, which come with nice little survival packages with tents, food, and stuff like that to communities with a homeless population."
Club sponsor Mrs. Valerie Remschel has many ideas left in store for Interact.
"I am wanting to do a Hunger Banquet," Remschel said. "It is an international fundraiser for the homeless where there are separate tables set up, and you can only eat beans and rice at one table, steaks and potatoes in another, and other foods like that."
Interact Club also aids in the Memorial Garden in the senior parking lot. They pick up trash, pull weeds, add little decorations such as painted rocks and benches to make it as pretty as possible.
"The Memorial Garden was set up in 2000 to honor students who enrolled in FHS who died," Remschel said. "We had monarch butterflies come into the garden to help represent the spirit of life and the life cycle."
Interact Club mostly aids in community projects.
"Local fundraisers are great because you are actually helping people you are around," Remschel said. "Mission work is good, but there are so many mission works around here."
Interact has given many members things to take with them on their own journey.
"In your worst needed times and desperation, there is always someone wanting to help you, and you might not think that, but there is a multitude of clubs in your country, state and even your city that are trying to help people like you," Wilkins said. "You've just got to seek out those people and let them help you."