Teachers Prepare for Retirement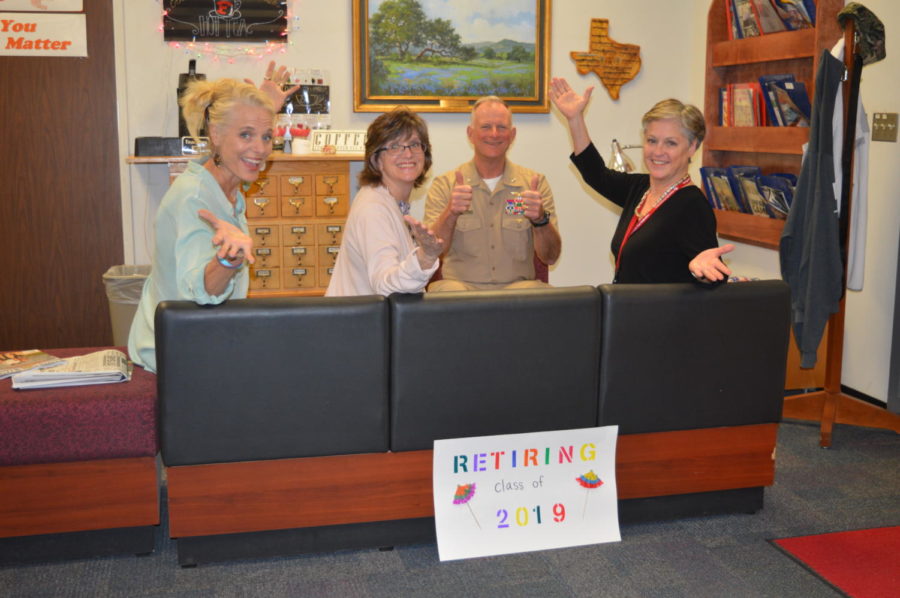 As the end of the year approaches, seniors are getting ready to start a new chapter of their lives, but so are a few teachers. This will be the last year that Mrs. Allison Drury, Mrs. Donna Oehler, Mrs. Valerie Remschel and Captain George Fadok will teach at Fredericksburg High School. All four teachers are saying goodbye to FHS and hello to retirement.
Mrs. Allison Drury has been an English teacher for 34 years; however, not all of them have been at FHS.
"I loved literature and I loved kids," Drury said. "I realized that I enjoyed writing and the manipulation of language. I thought teaching would be a perfect melding of those passions."
After working at Stafford High School, Drury and her husband came to Fredericksburg. At the time, there were no jobs at FHS, but Drury found some connections.
"At the same time we moved, I was named District Teacher of the Year at Stafford High School. I knew the assistant superintendent of Stafford Municipal School District," Drury said. "He happened to be roommates in college with the superintendent of FISD at the time. I think it was a God thing because there was a connection there."
Drury has had many enjoyable experiences as a teacher, but there is one that sticks out as most memorable.
"When I was pregnant with my son, I sat back on a desk," Drury said. "I was probably six to seven months pregnant. I tipped the desk over. The air got sucked out of the room, and I think they all thought I was going to go into labor. The student who picked me up off the floor was Sam Bell. Years later, when he arrived at Open House for his daughter Ja'nay Settles, we reminisced about the incident."
As her time at FHS comes to an end, Drury is excited for the opportunities she'll have during retirement.
"I might go back to school and get a Master's in reading since there are so many students who struggle with dyslexia," Drury said. "I know I'm going to travel. My husband and I would like to see a baseball game in every baseball stadium in the U.S."
Although she is excited about retirement, Drury will miss some aspects of teaching.
"I will miss relationships with students and teachers," Drury said. "I'll also miss the creativity that comes with creating curriculum.
* * * *
Mrs. Donna Oehler has been teaching for 28 years and has been a teacher at FHS for 24 years.
"I've worked at a lot of different places, but Fredericksburg High School is the best ever," Oehler said. "My favorite memory that I will carry with me for the rest of my life is the students. We have wonderful young adults at FHS."
Oehler was inspired to pursue a teaching career by a teacher she had when she was a student.
"When I was in high school, I had a teacher named Mrs. Banks who taught me so much about life," Oehler said. "I wanted to be just like her. Some of the things I learned from her have made my life so amazing that I wanted to teach my students some of the same life lessons."
Oehler and her husband moved to Fredericksburg in 1994, and she began teaching at FHS a year later.
"A group called 2020 Vision decided that every FHS student should take a parenting class, and I was lucky enough to be hired to teach that class in 1995," Oehler said. "The class is now called Child Development."
Oehler is excited for retirement and has plans for her upcoming free time.
"In my retirement I will spend time with my daughters and grandkids," Oehler said. "It will be nice to be able to travel in the fall when everyone else goes back to school. I've always wanted to do that."
* * * *
Mrs. Valerie Remschel has been a librarian for six years at FHS. Before she came to FISD, she was a librarian at Nixon-Smiley Middle school.
"Coach Remschel and I moved to Fredericksburg in 2000," Remschel said. "I became the Physical Education/Music teacher at Fredericksburg Primary School until 2005. I then transferred to Fredericksburg Elementary School as the librarian. In 2013 I transferred to Fredericksburg High School and will retire here."
Remschel became a librarian because of her love for seeing children grow.
"I enjoy reading, and I love seeing students develop their love of reading and seeing the benefits of their joy of reading," Remschel said. "It is a lifelong activity. I also enjoy being able to see all students every day."
Remschel has many plans for her retirement, including both work and recreation.
"Retirement will allow me more leisure time to work in my yard and to continue serving as a Director with Pampered Chef, a business I dearly love," Remschel said. "Last but definitely not least, I will have the opportunity to enjoy time with my grandson, one-year-old Nicholas Robert, when the 2019-2020 school year begins."
Remschel has enjoyed her time as a teacher and librarian and will miss several elements of her job.
"I have loved spending time in a wonderful and happy environment but more importantly, enjoying time with beautiful, smart and fun students and staff," Remschel said.
* * * *
Captain George Fadok has been teaching for nine years, and all of his time has been spent at FHS.
"In 2003-2004, I attended the Industrial College of the Armed Forces," Fadok said. "This experience led me to conclude that education was vital to our nation's security, and planted the seed that one day, I would consider education as my next career."
After retiring from the Navy in 2009 and interviewing at two schools without getting hired, Fadok had almost given up on becoming a NJROTC Instructor.
"There aren't many schools and opportunities in the San Antonio area," Fadok said. "I visited the Navy JROTC website to see if any positions were open, and sure enough, Captain Gene Garrett was retiring as the Senior Naval Science Instructor at FHS.  I called him the next day to see if the job was still available, and he said I was the first person to call. Mr. Lynn Blackwell, the principal, interviewed me the next week and offered me the job the next day."
Fadok is looking forward to the time he will have in retirement with his family.
"I'll travel more to see my five children and four grandkids, who are literally spread out in the four corners of the U.S.," Fadok said.
Fadok has enjoyed his career as a teacher and will miss everything FHS stands for.
"I will remember my entire nine years at FHS with fondness for all of my students, present and past, all of the teachers, administrators and support staff I've been blessed to work with, and I'll be forever thankful for each day of this experience," Fadok said.