Enlisting Seniors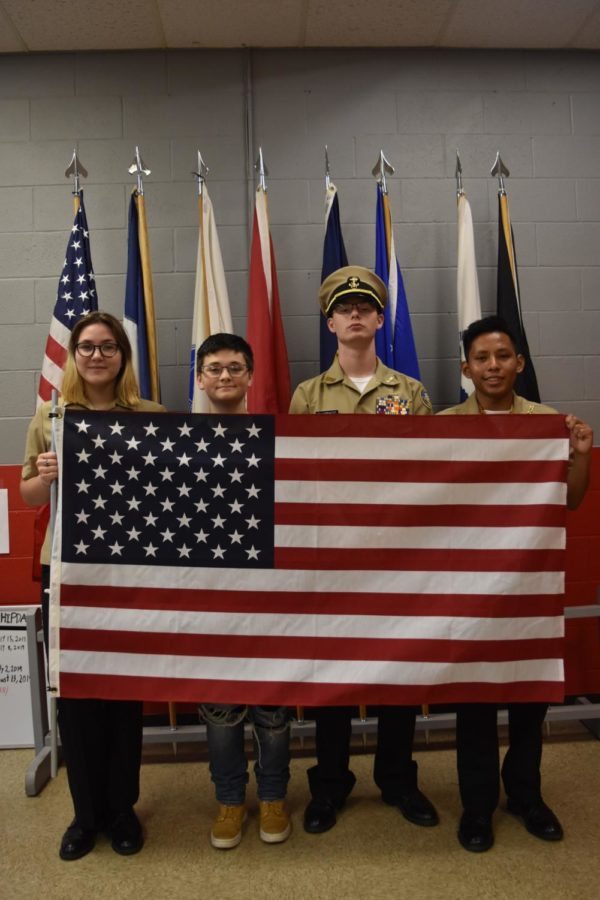 Senior year in high school is a stressful time. It's a time of molding futures and planning 'get-ready-for-reality' vacations before college, and after three years of procrastination, decisions must be made. But not everyone's future consists of college or trade school. Some people decide to dedicate their futures to the Armed Forces such as the Army, Navy, Marine Corps, Air Force and Coast Guard. This year five seniors in NJROTC from the class of 2019 enlisted in the Navy, Marine Corps and Air Force.
Cadets Juan Loredo, Bethany Wood, Eduardo Memije, Clayton Ellebracht and Rebecca McLaughlin have all decided to join the military. Loredo and Memije joined the Marine Corps and plan to leave for boot camp sometime this summer. Ellebracht enlisted in the Air Force while Wood and McLaughlin enlisted in the Navy and will leave July 6 and Aug. 13.
Leaving everything you know to join the armed forces is a difficult choice to make, but for some students, it's the only choice out there.
"I joined the Navy because I knew I didn't have good enough grades for college," McLaughlin said. "I also wanted to give back to my country."
Memije enlisted in the United States Marine Corps and plans to be an aviation technician.
"I enlisted because I wanted something more than myself," Memije said. "I want every day to be a challenge. I didn't want to be given a title simply by enlisting. I want it earned. I want to earn the title 'United States Marine'."
But he doesn't plan on stopping there. "I will try out for reconnaissance if allowed," Memije said. "I also plan on staying in for 20 years, but afterwards I will try to work in the aviation field."
Many young people join the Armed Forces for various reasons and for Ellebracht, joining the Air Force was a family tradition.
"I picked the Air Force because my dad was in it," Ellebracht said. "I enlisted because it was a family tradition."
Speaking of family traditions, Loredo plans on following in his brother's footsteps and has chosen to pursue a career in the Marine Corps.
"I joined because my brother is a Marine, and it just seems like the coolest branch you can join, and it's the biggest challenge you can get in any branch," Loredo said. "The boot camp is the longest and the hardest."
Even as an enlisted, cadets still have a future to plan out whether their contract is for six years or 20.
"I want to teach ROTC when I get out, and you have to do 20 years for that," Loredo said.
Wood enlisted last summer in the Navy through the recruiting office in Kerrville and she plans on entering the Advanced Electronic Computer Field (ACEF). "I'll retire with a bachelors in computer science and will apply for tech in the CIA or field offices," Wood said.
"I enlisted because I wanted to better myself as well as my country," Wood said. "I also have family ties to the military."
Contrary to the popular belief, NJROTC cadets aren't the only ones who enlist, and students don't have to be in the program to go through the process. Many seniors this year are currently enlisting or already enlisted, such as Colton Head, Brandon Hewitt, Robert Zowie, Nicholas Godwin, and Geneva Rose.
Joining the military gives cadets many opportunities, lessons and knowledge that will continue to benefit them even after their career is over. Though the military might not be the right place for everyone, it was the perfect place for these seniors.