Billies Football Starts the Season Off Strong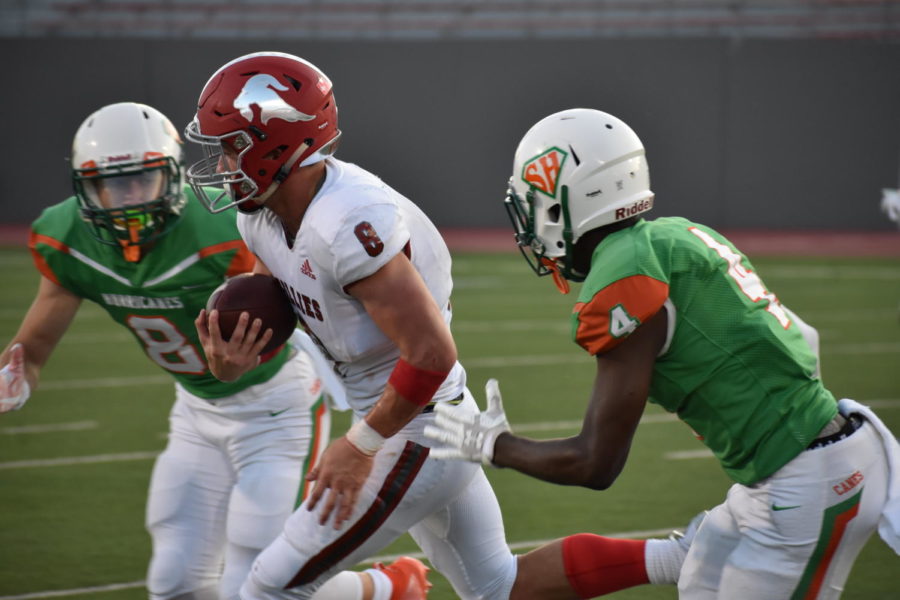 Dillon Rabon , Staff
September 13, 2019
The Billies kicked off the 2019 season, as they traveled to San Antonio to face off against Sam Houston in a game in which the Billies were in control from the start. The Billies went on to win 35-26, starting the season 1-0.
The Billies kicked off the game on a high note as Jarrett Beard rushed for a 30-yd touchdown, scoring the first points of the season. On the next drive, the Billies were able to keep the momentum on their side as Judson Beard added another touchdown to their score, putting the Billies up 14-0. On the next drive, Sam Houston was able to get the ball rolling as they scored on a 60-yd touchdown pass. Sam Houston completed the two point conversion making the score 14-8.
To start the second quarter, quarterback Tucker Elliott rushed into the endzone, making the score 21-8.  A few drives later, the Hurricanes managed to get in the endzone and scored two more times but failed to convert for two both times, making the score 21-20. With two minutes left in the half, the Billies managed to make a big play, scoring another touchdown to make the score 28-20 to end the half.
The second half was all about defense as both teams managed to get only one touchdown on the board. Aaron Cordero managed to go 5/5 on PAT's on the game, ending the game 35-26. 
The Billies play their next game on September 13th against Bastrop Cedar Creek. The Billies look to get back on their feet after falling short the week before against 5-A rival school Kerrville Tivy.