Girls' Soccer Loses Players but Fights Through District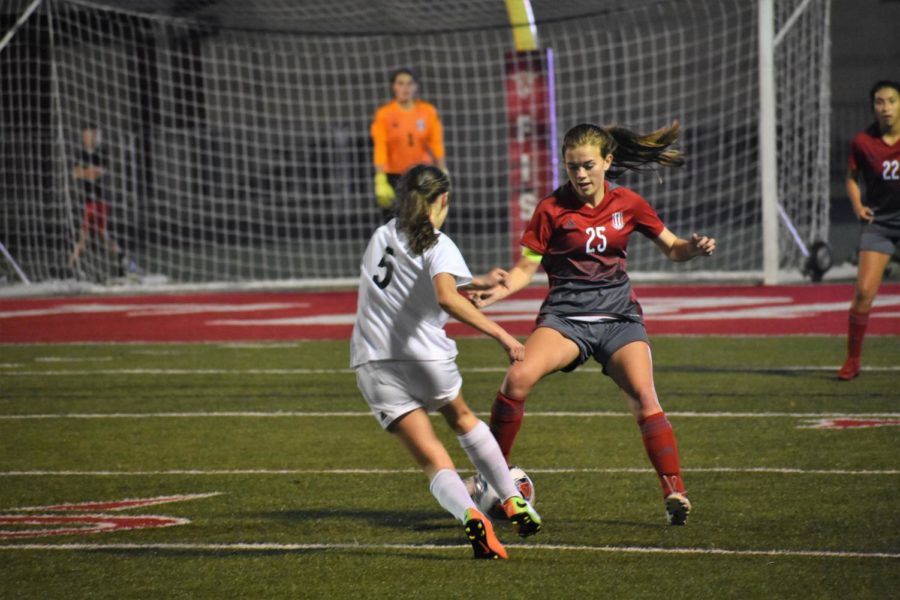 Sydney Holster
March 20, 2019
Coming into soccer season this year I had great expectations for the 2019 girls' varsity team. With the first tournament game against Liberty Hill, the reigning state champions, our team held the score 0-0 until the last fateful 15 seconds when Liberty Hill scored the winning goal. Leaving this tournament, we held our heads high. We may have lost, but we had gotten better. We had proven to ourselves that we had the potential to go far. We began to trust in each other and grow as a team and friends. 
The next two tournaments we continued to find our shape, continuingly facing the top teams in the state. In the Georgetown "Governor's Cup," we placed the highest we have ever placed winning two of the three games against 5A teams. Coming out of this tournament, we were filled with such excitement for the coming season. We had already created own team philosophy; we could tie each game all the way to state, and we believed this; we believed in each other. 
Our first injury came that next week when returning varsity starter, Julia O'Leary got her third concussion. This was the beginning of a string of injuries. On Jan.22, during a non-conference game, Larkin Penn left concussed. This was quite a hit to our team. Both O'Leary and Penn were starting seniors who were key players on the field. 
Our team pushed through giving other players their chance to prove themselves in place of the injured. The first game of district came along two weeks later, and Penn was finally cleared to play, yet O'Leary was faced with the hard reality that she would never be able to play another game of soccer. We fell to Wimberley 0-1 due to a penalty kick in the goal box, yet we were not defeated. We held our heads high knowing we were capable to change the final outcome the next time we faced the Lady Texans. 
In the second game of district, we traveled to Bandera only to leave with two starters, Julia Freeborn and Autumn Pyka, injured with torn ACLs. Practice the next day was rough to say the least. Not only were Pyka and Freeborn key players, they were leaders on the field, teammates and close friends. We reevaluated our field shape and then faced state finalists Boerne Greyhounds the next Friday, Feb. 22. Out this game was starters Freeborn, O'Leary, Pyka and Ana Iglesias, yet we fought and played a tremendous first half holding Boerne to 0-1. By the second half, clear holes were forming in our mid-field and defense due to the absence of the injured players. The Greyhounds left with a 0-4 win.
I couldn't really imagine anything worse to happen to our team. A team who had started with so much potential success was falling crippled yet we still had the heart. We had the passion to come out the next day and come home from Canyon Lake with a win. Coming into the locker room on game day, I found out that captain, Harley Wilferth, also had a concussion from the Monday's practice. Our spirits were crushed, and our game showed this. We fell 0-2. The day before we started our second round of district, Beyoncé Bernal fell ill, and Penn left practice early believing she had another concussion.
Here I am left wondering what motivation can I find to continue and to not quit on the team? Going into the Wimberley game, we had six starters out. Coach asked us before playing Wimberley to dig deep and think about what motivates us to keep fighting. He explained to us that he believed in the team we still had. Feeling constantly less and less motivated, finally I realized why it was important to finish the season strong. We could not control half the starters getting injured, yet it is our responsibility to control how we respond. Each game is a new opportunity for success. I decided I wasn't going to play for myself. I would play for those who couldn't – those seniors who would never have the opportunity to play the game they loved. I would play for my team even if it was broken and build each teammate up so they would do the same for me.