Cross Country pulls through at Liberty Hill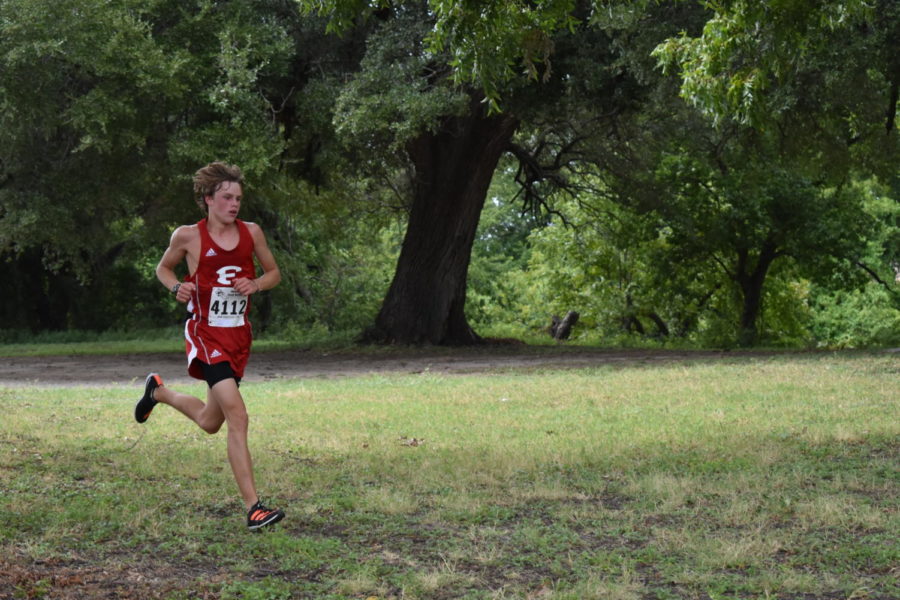 The Fredericksburg High School Cross Country team competed at Liberty Hill on Saturday Sept. 7th.
The team preserved through heat, dust, and tough competition in order to rise above.
The varsity girls finished fourth overall with several girls finishing in the top 20. Freshman Juliana Martinez finished 14th with a time of 13:24. Senior Julissa Sanchez finished 16th with a time of 13:36, and sophomore Aver Crouse finished 19th with a time at 13:40. Finishing close behind the girls was senior Aleah Constantine, placing 21st at 13:40. Next was junior Maribella Arias finishing 22nd with a time of 13:50. Close behind was junior Anna Gold finishing 23rd with a time of 14:08, and Nahomi Arias finished 25th with a 14:14 and rounding off the varsity girls division for Fredericksburg was Lizbeth Hernandez, placing 26th with a 14:21. 
The junior varsity girls' division placed fourth in the meet. Freshman Natalie Rivera finished 15th overall with a time of 15:11. Next across the finish line was sophomore Vanessa Herrera placing 16thwith a time of 15:13, and rounding out the top 20 was sophomore Reese Griffin, placing 18th with a time of 15:17. Close behind was sophomore Perla Salazar, placing 23rd with a time of 15:28, and neck and neck behind her was sophomore Jaelynn Rock, placing 24th with a time of 15:28. Close behind was sophomore Amie Pyka, placing 28th with a time of 15:36. Next finisher was junior Ella Sanchez, placing 39th with a time of 16:02, and rounding out JV girls was freshman Whitney Phillips , placing 70th with a time of 17:05.
The varsity boys finished second in their division. Half the boys finished in the top 20. Junior Andrew Kendrick finished in first with a time of 15:25 for a 5K. Sophomore Khristian Torres finished sixth with a time of 16:58, while Troy Kneese finished 10th at 17:19. Sophomore Kaleb Torres came in 12th at 17:28, and freshman Ray Romero crossed the finish line with a 17:40. Junior Miles Hammond placed 24th at 18:31, and senior Graham Hammond finished 25th with a 18:32. Sophomore Kade Jenscke placed 30th with a time of 18:38. Senior Landon Sparrow finished 32nd at 18:44, and finally junior Jose Lopez placed at 33rd with a time of 18:50.
The junior varsity boys finished fourth as a team with senior Juan Sanchez placing 9th with a time of 18:57. Sophomore Gabe Cross finished 19th at 19:39, and junior Blake Penick finished 26th with a 20:12. Freshman Logan Sifford placed 28th with a 20:18, and freshman Spencer Holt finished 41st at 20:58. Freshman Joseph Hakanson placed 51st at 21:38, and freshman Mason Sommers finished 70th with a 22:22. Freshman Joseph Vaughan finished 71st at 22:25, and Sophomore Brennen Vollmar finished 73rd with a 22:33, and rounding off the JV boys division was Kolby Fryburger placing 92nd with a time of 23:24.