Varsity Tennis Aces Competition in the Billie Invitational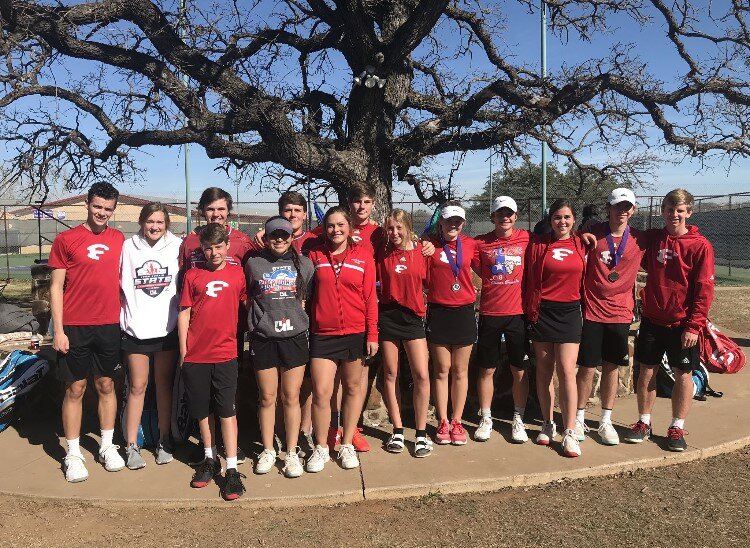 Claire Maxcey, Staff
March 4, 2019
Billie tennis has officially started their spring season for the 2019 school year. Varsity played in four tournaments since Jan. 25 with their most recent tournament being the Billie Invitational played on Feb. 22-23 at the Fredericksburg High School and Lady Bird Park courts.
Playing boys' singles was junior Noah Deleon and freshman David Lindsay. Deleon beat out four opponents to grab first place, beating Midland Christian in the finals 6-1, 6-3. Lindsay made it to the semifinals before losing, but he was able to pull out a win against Wimberley for third place.
The duos of Thomas Wainwright and Blake Boubel along with J.T. Peet and Cooper McDonald played in the boys' doubles division. Wainwright and Boubel won two rounds to put them in the semifinals, but the pair lost in the third set against the number one seed, Kerrville Tivy. The duo of Peet and McDonald went 3-1 in the tournament, losing in the second round but winning their other matches.
The girls' singles division consisted of freshman Olivia Alvarez and junior Terah John. Alvarez made it to the finals, beating off the number one seed 6-4, 6-4 from Seminole for first place. John played a tough first match against Lampasas, but lost after a hard fight to put her in the consolation draw.
Playing in the girls' doubles draw were the pairs of Avery Stephens and Jaci Spies and Amy Dittmar and Karina Gonzalez. Stephens and Spies won their first two matches before losing to Wimberley in the semifinals. The duo ended up winning their next match against Andrews to clinch third place. Dittmar and Gonzalez won their first match before losing to the eventual winners of the draw from Seminole. The pair went 2-2 in the tournament.
In the mixed doubles draw were seniors Claire Maxcey and Levi Wilkins and juniors Emilia Smajstrla and Jarris Hawkins. Maxcey and Wilkins won all of their matches, beating Mason in the finals 6-3, 6-4 for first place. Smajstrla and Hawkins won their first match before losing a tough match against Kerrville. The duo ended the tournament 2-2.
The Billies played great tennis, winning the tournament in team points by almost 60. Varsity tennis' next tournament will be played on Friday, March 1 in Kerrville.